Your teen can't make it to our class in Navan? They prefer studying on their own, at their own pace? We have what you need!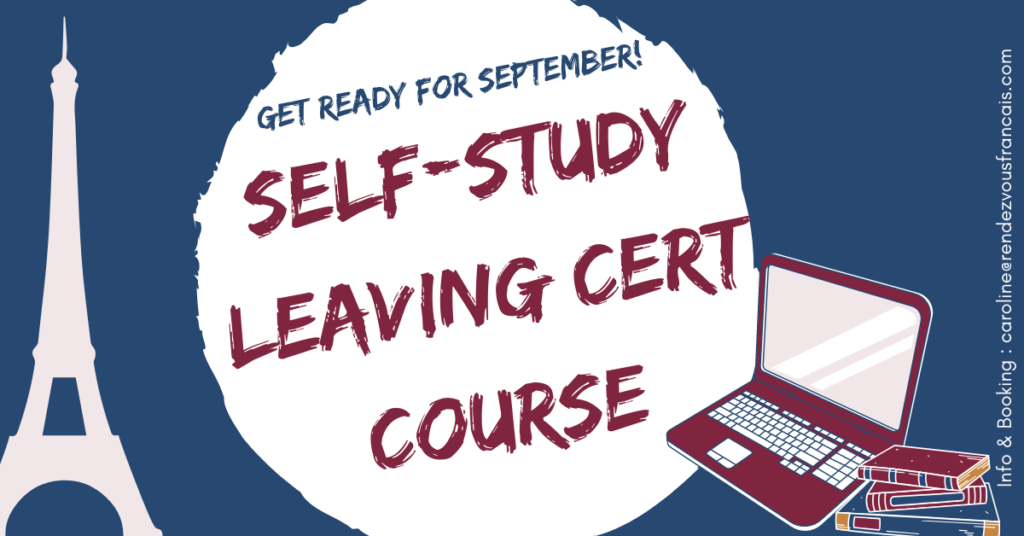 In this course, students will find the content of our "face-to-face" course, and much more, since it contains EVERYTHING they need to know for their French leaving cert.
Online learning is great because :
Instead of sitting in a classroom for hours, students will be able to access this course at a time that suits them, as many times as they need, right up to the last day of the 2021 Leaving Certificate Exams.
They will be able to pause, rewind and replay classes multiple times.
They will be able to use some online interactive tools to learn, and we know that this is much more efficient (and fun!) than just sitting in front of a teacher!
They won't be alone! They will get the support and feedback of a native teacher & examiner, all year long.
Our Leaving Cert French course is designed as a step by step tuition with your own teacher's feedback. If students have any question at all, they can get in touch with us, and we can organise a one to one video conference if needed. With practise assignments throughout the course, and mocks at the end, students will be best prepared for the exam. Each assignment will be corrected and graded to give them guidance and encouragement, and make the examination less intimidating.
Students can access the course from the day we received registration, and until the last day of the exams. They can view it as many times as they wish!
What is in the course?
As always, our main objective is to provide the best learning platform and solution for students. With this in mind, we have spent hours recording online classes, videos, updating contents, creating quizzes, tests, assignments and setting up this online course.
Here is a sneak peek into what the course looks like :
Inroduction :
What is your level of French?
Marking scheme & How to manage your time during the exam
Verbs & Tenses:
Present tense
Future tenses
Passé composé
Imparfait
Conditionnel
Subjonctif
Common grammar mistakes to avoid
The grammar question in Reading comprehension
Compréhensions orale et écrite :
Tips to get the best grade in each section
Step by step to answer your reading comprehension question
Vocabulary :
All topics needed for the exams
French idioms to use to get the best grades
Production écrite :
How to get the best grades in writing pieces
Step by step : Opinion pieces
Step by step : Journal intime
Step by step : Email / Letter
Last tips
We are also sharing with you 2 of the videos you will find in the course, to give you an idea of what you can expect:
As you can see, it is extremely complete: some topics are in videos, revision notes, tests etc. a lot of different formats to keep them motivated. We have put our knowledge, tips and experience into it, and truly think this is an amazing and extremely complete tool for them.
The fee for this course is only €100, for the most complete French Leaving Cert course you can find online.
What do I need to do to access this course?
Self-study Online Leaving Cert Course
€99
Study at your own pace, in your home
Unlimited access to the course until the exams
Pause, rewind and replay classes multiple times
Interactive learning tools
Your own native teacher's feedback, all year long
Corrected assignments & mocks
Everything you need to know for the exam, and more!
Simply click to sign up and complete your payment.

You will receive an email as soon as your form is received, with the access link to the course.